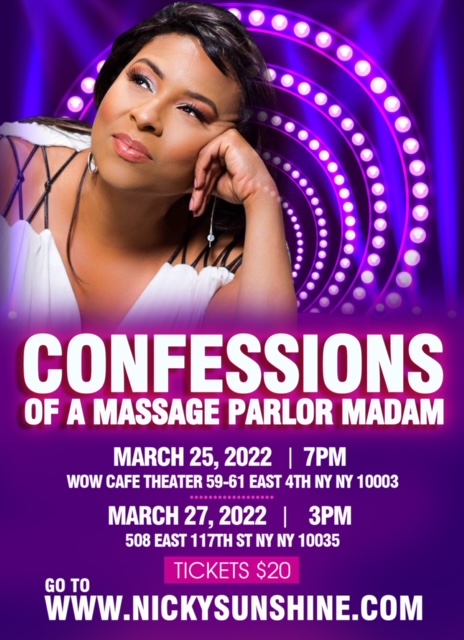 Many artists have to work odd jobs to make ends meet, but Nicky Sunshine stumbled upon a hustle in NYC's dangerous underground sex economy that put her at odds with the law. After working for Russian and Chinese massage parlor owners she decided to open her own massage business.
This show shines a light on the disproportionate number of women of color who are impacted by human trafficking, the dangers of sex work, and the call to "Never Give Up on Your Hopes and Your Dreams".
Confessions is a 60 minute look at the period Nicky spent as a sex worker upon arriving in New York in the early 2000s. The show is intelligent, funny, honest, sometimes shocking and hauntingly hilarious. A post-show talkback focusing on violence against women, sex work, trafficking and more is a unquie interactive experience.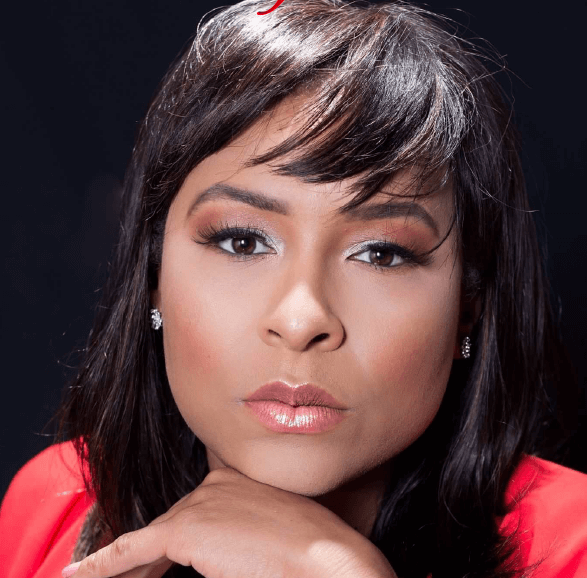 Everyone has their story to tell, their journey to share and their narratives on what has shaped them into the person they are today" Nicky Sunshine
"Confessions of a Massage Parlor Madam"
Is a funny, inspirational and dark look into the life of aspiring actress/comedian, Nicky Sunshine. Her many rejections and low self esteem side tracked her into a career of sex work and addiction. The message of this one woman show rings loud and clear. "Never give up on your hopes and dreams." With over a dozen showings at "The National Black Theatre" in Harlem, "Wow Cafe Theater" and "Broadway Comedy Club" the performances have sparked discussions of how to protect young women from the dangers of sex work. The show has raised money for Northwestern University Entertainment Alliance and Chicago Alliance Against Sexual Exploitation.
I popped over to Broadway Comedy Club to catch Nicky Sunshine's one woman show "Confessions of a Massage Parlor Madam" and you can add Nicky to the very short list of comedy performers who have openly talked about having successful careers as sex workers like Kaytlin Bailey, Alia Janine and Lisa Ann. Born in Falls Church, VA, she started out with the name Maya Nicole Miller, but after a 10 year career as a massage parlor madam which ended about three years ago, she transformed into Nicky Sunshine and that she is. Like a bright ray of sunshine. And her producer is Jamie Roberts who also happens to double as her boyfriend. I know Nicky from us having performed together but I never realized how multi-talented she is
Jeffrey Gurian
The Interrobang
Nicky Sunshine radiates her multiple talents in "Confessions of a Massage Parlor Madam". A brilliantly crafted one-woman tour de force! This show is intelligent, funny, honest, sometimes shocking, and hauntingly hilarious. A one of a kind journey with a massage…Ahem…message. I highly recommend it.
Whats The Buzz NY
To work with me on your next project, please contact Nickycomedy@gmail.com or fill out the form below.